UAE Joins the Worldwide Network of Duty-Free Imports
UNITED ARAB EMIRATES TO ACCEPT CARNETS AS OF APRIL 1, 2011
The United Arab Emirates (UAE) has confirmed that it expects to start accepting and issuing ATA Carnets as of April 1st, 2011, making the federation the 69th country to join the worldwide system for duty-free, tax-free temporary imports, according to the United States Council for International Business (USCIB), which administers and guarantees Carnets in the United States.
The UAE will begin by accepting goods for trade shows and fairs*, according to Cynthia Duncan, USCIB's senior vice president for Carnet operations. "It is an important step in linking UAE businesses to the wider global marketplace," she said. "With some 200 trade shows annually in Dubai , the UAE's acceptance of Carnets should be a boost for U.S. companies from all industries."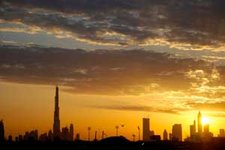 ATA Carnets are merchandise passports that permit the duty-free, tax-free export of goods. In 2009, the most recent year for which worldwide figures are available, over 150,000 Carnets were issued, covering goods worth more than US$17 billion. Prior to the UAE's decision, Moldova and Macao
were the latest territories to join the worldwide system, which is overseen by the International Chamber of Commerce (ICC) and the World Customs Organization.
USCIB said the announcement was made last month by the director general of the Dubai Chamber of Commerce, Hamad Buamim, and his counterpart from the UAE's foreign trade ministry, Abdullah Al-Saleh. The Dubai Chamber will assume responsibility for issuing and guaranteeing Carnets throughout the UAE.
The UAE was the largest U.S. export market in the entire Middle East and North Africa region in 2009, and the 19th largest globally, according to the U.S. Department of Commerce. Transportation equipment, machinery, computers and electronics, and chemicals are the top U.S. exports to the country. Ms. Duncan said she expected overall two-way trade to grow and diversify further in view of the decision to accept merchandise passports.
*Pending determination of bond amounts.
If you have any questions please contact the boomerang carnets® Carnet HelpLine® at (800) ATA-2900 / (800) 282-2900 or e-mail us.