Kazakhstan To Begin Accepting ATA Carnets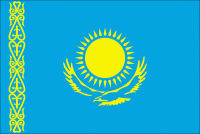 International Chamber of Commerce (ICC) announced today that, beginning April 1, 2017, Kazakhstan (KZ), the world's largest landlocked country, will become the 86th member to join the ATA Carnet system.
Ms. Yuan Chai, Manager – ATA Carnet ICC World Chambers Federation (WCF), announced the new country with supporting comments from Ruedi Bolliger, Chair, ICC WCF World ATA Carnet Council (WATAC).
Kazakhstan is the first and only country, of the eight Central Asian countries that were created when the U.S.S.R. was dissolved in 1991, to join the ATA Carnet system.
The other seven Central Asian countries are: Uzbekistan, Kyrgyzstan, Turkmenistan, Tajikistan, Georgia, Armenia and Azerbaijan. According to the WCF,
Georgia is the next country scheduled
to join the ATA Carnet system.‌
The Chamber of International Commerce of Kazakhstan (CICK) will be the National Guaranteeing Organization member of the ICC World Chambers Federation ATA international guarantee chain.
The CICK is responsible for issuing, administering and guaranteeing Kazakhstan ATA Carnets.
Kazakhstan will accept ATA Carnets for the intended uses of:
Professional Equipment
Commercial Samples
Exhibitions and Fairs
Please call the boomerang carnets® Carnet HelpLine®: 800.282.2900 or email us regarding ATA Carnets to Kazakhstan. ATA carnet applicants who would like to ship goods to Kazakhstan using an ATA Carnet should first contact an ATA Carnet Specialist to ensure smooth acceptance of the initial carnets in Kazakhstan.